The latest Shakti.ism social impact figures and thoughts on Social Business
Hi there. How are you? I hope you're managing to have a decent summer despite the current situation around the world. It has been an interesting few months for Shakti.ism. We've made some good progress, and our talented artisan teams in India and Bangladesh are starting to get back to (a new) normal.
Select tote bags and sari pouches are reduced to make way for new stock! Limited items available. Get yours before they're gone!
Product updates
New handmade Kantha scarves/shawls are coming in September!
Our recycled sari gift wrap is selling fast! It's reusable, zero waste, and gorgeous!
Shakti.ism's social impact to-date
Employment hours: 2,639
Products handmade by artisans: 1,600
Sewing machines purchased: 6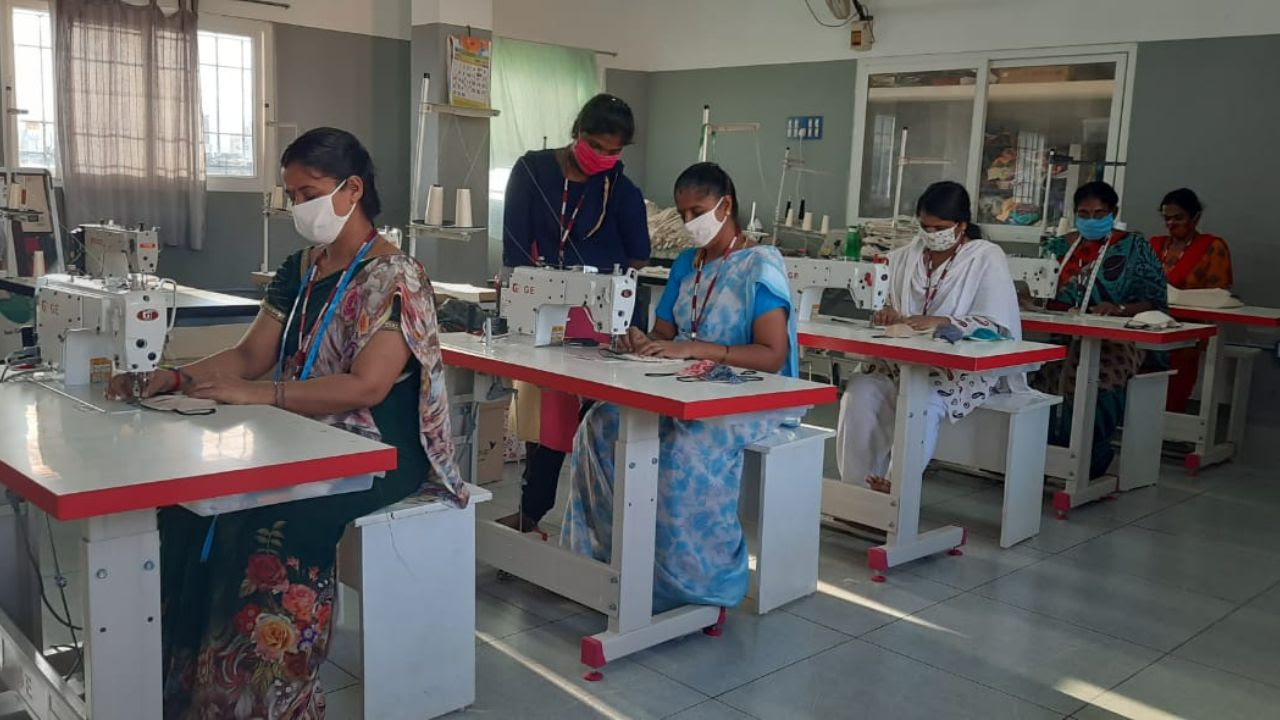 *Check out the brand new sewing equipment provided for the Shakti.ism team in Pondicherry above! And thank you again to every single one of you that contributed to the crowdfunding campaign for this in early 2020!
Social business and why it matters
A few months ago, I had the privilege of leading a webinar for the Delhi-based NGO Empower People, that works to empower women and girls, and works primarily to fight the horrific human rights issue of bride trafficking in India. The topic I chose to present about was the importance of social business and why it matters, and I would like to share a few highlights from the webinar here, as Shakti.ism is a social business! You can find a link to a recording of the entire webinar below as well.
Today I want to talk about social business: what it is and why it matters to me, to you, and why we'd all be better off if we moved towards a social enterprise model. I think this topic is particularly relevant now, and I ask you to think about the future of business with an open mind. Many of us have already realised this due to the recent COVID-19 pandemic, as we've had to shift the way we work because of what has happened.
"Social business" was a term coined by Nobel Peace Prize laureate Professor Muhammad Yunus, well-known as the father of Microfinance.
Essentially a social business is one that has specific social objectives that serve its primary purpose. Profits are generally reinvested in the business with the aim of increasing social impact or invested into the mission directly. A social business is similar to a for-profit business, but no dividends are issued. Investors will only receive back what they have put in, if they choose to. A social business is similar to a charity in that the overall objective is a social one, but a successful social enterprise is a business and is financially self-sustainable (as opposed to depending on donations).
"A charity dollar has only one life; a social business dollar can be invested over and over again."

–

 

Professor Muhammad Yunus
Examples of the above can include: profits being reinvested to expand the company's reach; improving the products or services; providing additional social benefits to the workers or beneficiaries; train more employees; or by subsidising the social mission in other ways.
What's wrong with charity?
It's a crucial function but it's limited in scope.
Charities target symptoms, not causes. Charities are impactful in the short-term and for 'firefighting' (which is much needed), however their services don't address the cause of the problem or work toward prevention.
There are unsustainable dependencies on aid money; if the funding disappears, what happens to the beneficiaries who depend on it?
There can be a negative impact on local industries, for example, accepting secondhand clothing donations is wonderful for poor communities, but by accepting them, it negatively impacts local garment manufacturing and the change to create jobs and positive economic impact.
There is a broad lack of accountability and transparency.
A charity's accountability is primarily to the donors or to the biggest board members, which is not necessarily going to make the biggest or most needed social impact.
Money doesn't always go where intended.
Aid can (and does) fund government corruption.
Where does the money go? Funds need to be tracked, NGOs should be fully transparent and accountable. Some heads of charities that work in some of the world's poorest areas have disproportionately high salaries.
What's wrong with capitalism?
Just to be clear, I am not making a political statement, but capitalism does have limitations which can be incompatible with having a positive social impact.
Driven by profit pressure, accountability lies with investors (so decisions are made based on maximising returns for the biggest stakeholders, and aren't necessarily beneficial to everyone else).
The biggest companies in the world are doing good things, but having a positive message in your code of conduct is a great start but very different from having a social mission at your core. It's not enough. They don't actually solve any real social problems.
There is a constant need to attract new sources of funding
It's easy to cut corners to save costs, in order to maximise returns
If your mission is to benefit disadvantaged people, it could be an easy place to cut costs if needed
It's a very competitive space. Companies selling similar products or services directly compete with each other, to steal market share and maximise their own profits, not really prioritising the mission or what is best for the end-user or society.
Capitalism contributes to inequality (data below from Oxfam and Forbes):
The world's ~2000 billionaires have more combined wealth than the 4.6 billion people in the bottom 60%
India's richest 1% hold more than four-times the wealth held by 953 million people who make up for the bottom 70%
Currently 102 billionaires in India with a combined fortune of $313 billion
Although India has benefited greatly, there is a much bigger disparity in India than in other regions
There are still huge injustices and inequalities to address for the future of business.
Capitalism is selfish. It's by definition about making the most profit, which a lot of entrepreneurs in India (and in every other country) have been very successful in doing.
Imagine what India would look like today if even half the entrepreneurs operated as social businesses instead of for maximising profit.
Additional benefits of social business
A social business always has a social mission at the core of its business model. That means being in business while solving a social problem which can positively change the world.
Social enterprises tend to partner, collaborate and support one another, as opposed to competing with each other. There is so much good intention in this space.
Many companies do give back when they become very successful, but most companies will never make it to that stage. Imagine being impactful while you grow. If you run a social business, everything good that happens for the company, will benefit your social mission as opposed to CSR contributions or one-off donations if and when. 
Eliminating the need for fundraising allows profits to be reinvested into increasing social impact, because then there is no need to please stakeholders. The scope for positive impact is clear: you just focus on your mission.
Being successful and having a positive impact are not mutually exclusive – by running or working for a social business is how you can do both at the same time. You don't have to choose between them.
"Give a man a fish and you feed him for a day; teach a man to fish and you feed him for a lifetime"

– proverb, author unknown
To watch the entire webinar, including some additional information about Shakti.ism and how we've adjusted due to the COVID-19 pandemic, click here. There's also a Q+A session that follows.
Every Shakti.ism | शक्तिवाद purchase empowers disadvantaged artisan women in India and Bangladesh by providing dignified employment, a living wage, hope and opportunities for their children. I am so grateful for your support and for your business.

Enjoy the rest of your summer and please stay safe! 
With gratitude,
Jitna Bhagani, founder of Shakti.ism
️The Shakti.ism web shop will be closed from August 5th-25th, so please order now if you want your goodies shipped by the 4th of August. The shop will reopen on August 26th! We've got lots of gorgeous new items being added to the shop soon!